Nortool Oy specialises particularly in thermo moulding and polyurethane foaming moulds for a range of refrigerator, freezer, display cabinet and boiler solutions. Planning, design and manufacture of complete production lines is based on the "turnkey" principle.
Our complete, customer-based production lines include tailored design, high quality moulds, powerful hardware, and a user-friendly control system. Installation, initialization, and the training and guiding of the users are naturally a part of the complete Nortool delivery.
We have solutions from small individual moulds to large fully automatic production lines. Our experience of over 35 years is available for you.
SOLUTIONS FOR REFRIGERATION TECHNOLOGY
Foaming line Our production line deliveries typically include a mould, foaming press and required auxiliary devices (e.g. conveyors). Complete heating and control system are integral to our concept. Together with our customers, we strive to find solutions that maximize both productivity and product quality. The solutions are economical, safe, and take into consideration the ever-growing environmental points. The developed automation takes care of safety and optimized production.
Foaming line for freezers or cooling cabinets
In this line type, the foamed products are loaded directly on two core moulds. When the core moulds are loaded, they move automatically to the press. Foaming can be performed manually or automatically. The line can be used to produce different sized product modules.
Productivity can be increased by including another set of core moulds, which can be loaded and unloaded during the curing time of the products in the press.
Foaming line for freezers or cooling cabinets
In this line type, the foamed product is loaded directly on a core mould. When the core mould is loaded it moves automatically to the outer mould, that closes and locks on the core mould. The line can be used to produce different sized product modules.
Productivity can be increased by including several core moulds.
Foaming line for freezer or cooling cabinets
The foamed product is taken to the mould with an automatic feeding belt or roller conveyor. When the product is set, the book type mould closes. The foaming process can be either automatic or manual. This line type is also capable of producing different size product modules.
Multiproduct foaming line
With this line type, you can simultaneously produce products of different sizes and types. Individual moulds move on a closed track that can have simultaneously up to ten different products. The line is equipped with hardware to open and close the mould. This also works as unloading station for the complete product and as a loading station for the new one.
Single product foaming mould
In this tool, the outer mould and the core mould are integrated. This mould is capable of producing different size products. Heating can be implemented by either water or electricity.
Foaming lines for refrigerators
This type of production line is used to produce a specific refrigerator model. It can be used to produce different models by changing the core mould. For this purpose, we have developed a system for changing core moulds that enables a smooth and extremely fast changing of the product in production.
Integrated foaming molds
In this application both the mould and the opening machine are integrated to each other. It is suited well for cumbersome pieces such as cooling cabinet corner pieces.
INSULATION PANEL SOLUTIONS
Drum unit
The drum unit can be applied in particular to flat insulation panels or insulation panels with little shape. The drum unit can be either two, four, five, or six chambered.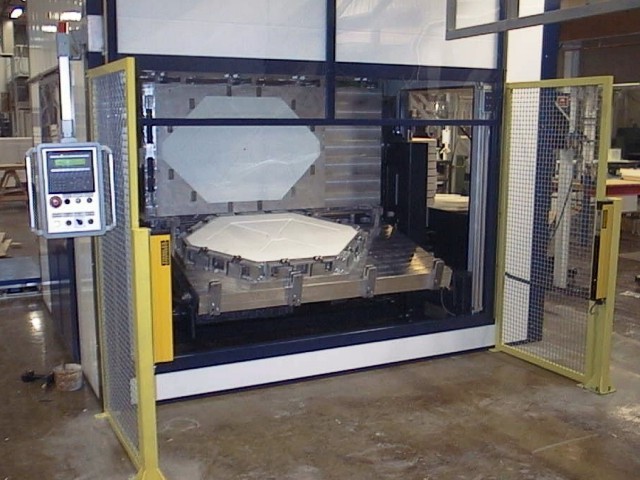 DRUM-4, 4 chamber drum unit
This drum unit style can have four products of different types and sizes in the works at the same time. The chambers do not necessarily need to be the same size.
DRUM-2, 2 chamber drum unit
This drum unit type is especially suitable for fridge door production in small batches.
Refrigerator and freezer doors
The doors of refrigeration units can be foamed with a book like mould seen here.
Panel press (small batches)
Our other solutions include for example this simple panel press, that is best suited for small batch production.
WATER HEATER AND BOILER SOLUTIONS
We deliver complete production lines and individual moulds to water heater industry. The size of the heater can range from 15 to 500 litres, this sets special requirements for the production line. For this use, a rail-like line suits well. It can be used to manufacture different sized heaters and boilers at the same time without the efficiency suffering. Our solutions include the sorting of foaming frames and bringing them to the foaming line with a roller conveyor, surface finishing of the foaming moulds when the foaming goes directly to the mould, the foaming process itself and the transfer of the boiler to the final assembly. Our production lines are mostly automated, which decreases the need for personnel. It also guarantees a steady production pace and quality. The control system takes care that the right mould gets the right dose and that the foamed boiler ends on the right assembly rail.